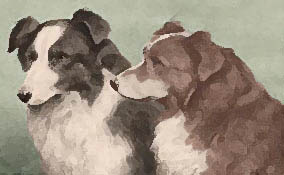 BORDER COLLIE COUSINS
THE PATAGONIAN SHEEPDOG
---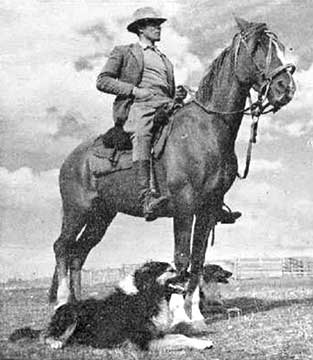 A Patagonian Shepherd with two of his dogs.
(Photo from the 1930s or '40s
courtesy of Jeanne Joy Hartnagle-Taylor
from the Hartnagle file.)
Throughout the 19th and early 20th century the government of Argentina encouraged immigration by Europeans. From a book written by a German television documentary crew we learn that "They came from Wales, Scotland, and England. They crossed the Andes and came through Chile; they arrived by ship from Naples, or sometimes from...German[y], to a wild, new, and unknown coast. Landless peasants from Spain, as well as escaped Russian serfs, belonged to this incoming army of immigrants."[15] Irish settlers arrived in Patagonia as sheep farmers and agricultural labourers in the 19th century. Beginning in 1825, Scots began to arrive. Some founded large ranches in Patagonia, others were shepherds looking to work on farms and ranches. They brought with them their working collies, which interbred with local working dogs (likely of Indian and/or Spanish descent). These formed the basis for the Patagonian Sheepdog. The book quoted above explains that "the different settlements in the region [were and] are too far apart from one another, the estancias or farms of the herd owners [were and] are too isolated for a physically distinct dog population to have evolved in a few dozen decades."[15] The authors did not see any of the native Indian-type dogs and surmised that they had gone extinct as did their masters; but the masters survive today in the "mestizos, people of mixed European and Indian ancestry", and it is likely that the Indian dogs survive in the Patagonian Sheepdog.
Today, the Patagonian Sheepdog is distributed throughout the plains (pampas) of Chile and Argentina. Their type varies greatly, both in looks and working style. In size they range from 21 pounds to 90 pounds, and they come in a large variety of colors and coat types. Even a bearded type exists. They are hardly a breed and have no registry, but they have developed into landrace types that are adapted to the harsh conditions of the area.
---
Resources:

Birr, Ursula, and Gerald Krakauer, Daniela Osiander. Dog's Best Friend: Journey to the Roots of an Ancient Partnership, Park Street Press, Rochester, Vermont, 1996.

Hartnagle-Taylor, Jeanne Joy. Stockdog Savvy

Copyright © 2013 by Carole L. Presberg



---
Return to



BORDER COLLIE COUSINS
---

e

THE OTHER WEB PAGES WE MAINTAIN


---
These web pages are copyright ©2013 and maintained by webmeistress Carole Presberg
with technical help from webwizard David Presberg
ALL RIGHTS RESERVED
If you are interested in using ANY material on this website, you MUST first ask for permission.
You may email us at carole@woolgather.org.
---
Last modified: August 9, 2013 carole@woolgather.org